Elizabeth F. Faulkner, Esq.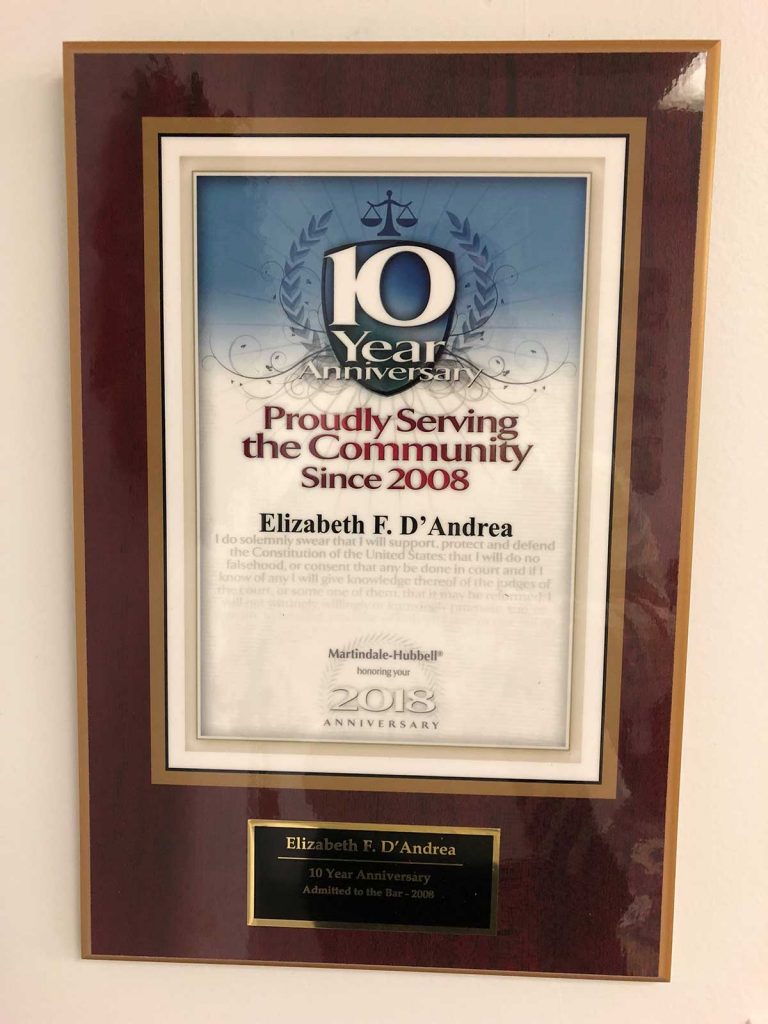 A native of Ulster County, Liz graduated from the State University of New York at New Paltz in 2004 with a bachelor's degree in Finance. While completing her undergraduate education Liz was named to the Dean's List and was a teaching assistant in Business Law. After graduation Liz attended Albany Law School and received her Juris Doctor in 2007.
During law school Liz was a member of the Women's Law Conference and the Phi Alpha Delta International Law Fraternity. Liz also obtained Mastery Certifications for Lexis Nexis and Westlaw databases. Prior to being admitted to the Bar in 2008, Liz completed internships with the City of Albany Criminal Court as intern to Judge William E. Carter and with the Ulster County Supreme Court as intern to Justice Vincent G. Bradley.
After graduating from law school Liz became a Junior Corporate Attorney for Indotronix International Corporation, a major conglomerate corporation in Poughkeepsie, New York. After just 18 months in this position Liz was promoted to General Counsel and Corporate Secretary where she was responsible for overseeing staff attorneys as well as all stages of litigation, state and federal corporate filings and was the chief legal counsel to the board of directors. Liz also dealt regularly with the Department of Defense and other federal agencies requiring her to obtain a Top Secret Security Clearance.
Liz' s passion for Family and Matrimonial Law came as she served as Of Counsel to the Law Offices of Rami J. Fakhoury, a small law firm also in Poughkeepsie, New York. Here Liz found her calling in helping people through some of the most difficult times in their lives.
Liz left Indotronix in 2012 in order to concentrate her attention on being a trial attorney and joined Jonna Spilbor Law. Here Liz was responsible for representing clients in all legal proceedings involving matrimonial, family, civil and criminal proceedings. Liz gained valuable experience in administrative hearings, Article 78 proceedings and binding arbitrations. Promoted to Senior Associate Attorney after just one year, Liz continued to hone her trial skills at the firm until deciding to open her own law firm in 2014.
Liz founded D'Andrea Law Offices, P.C. in 2014 in order to focus her attention solely on Family and Matrimonial Law. Liz's desire to provide clients with unmatched expertise led her to build a practice based on just one specialty. The desire to serve the community she grew up in, led her to base that practice here in Kingston.
Karen Lagno
Paralegal
Karen is a Dutchess County native and the most senior member of the staff at D'Andrea Law Offices. With more than 30 years of experience, Karen has been a paralegal for some notable Hudson Valley attorneys, such as Michael Kranis and Jeffery Martin. Karen has experience in many specialties including Medical Malpractice, Real Estate, Estate Planning and Environmental Law. Karen served for 10 years as the secretary to New York State Supreme Court Justices Christine Sproat and Judith Hillery. This experience is valuable in Matrimonial Law as the secretary for the Justices reviews divorce documents, orders, subpoenas and other legal documents prior to them being signed.